Card oh card
So today is monday, april 12, and nagplano ko na magkuha nang card. So I was like calling to my friends and asking them if pwede pa ba makuha ang card. No one replied to my texts except for camille but her text was no use coz' she didn' really know if makuha na dyud ang card karon becoz nakuha naman to niya last thurs. Good thing i called on to toni! And she gave me the number of Sir Labz so I texted him and he replied na pwede na mkuha ang card. So I rush on, naligo nako and nag prepared and nagdungan ko sa akong ate rose.

So at last naka.abot nako sa school, yeheey! And when I entered their room, yay, Asa man si sir??! Naa may mga 4yrs oi, my gass, good thing gamai ra toh nga mga males. Hay naku gisugo2x pako ni mam patty ug mga things and good thing alaiza came and I finally got my card. Because mam patty said, dapat mutabang pako before I'll get my card O.o men.. -_-''
So after that, I happily saw my report card and I was really satisfied to it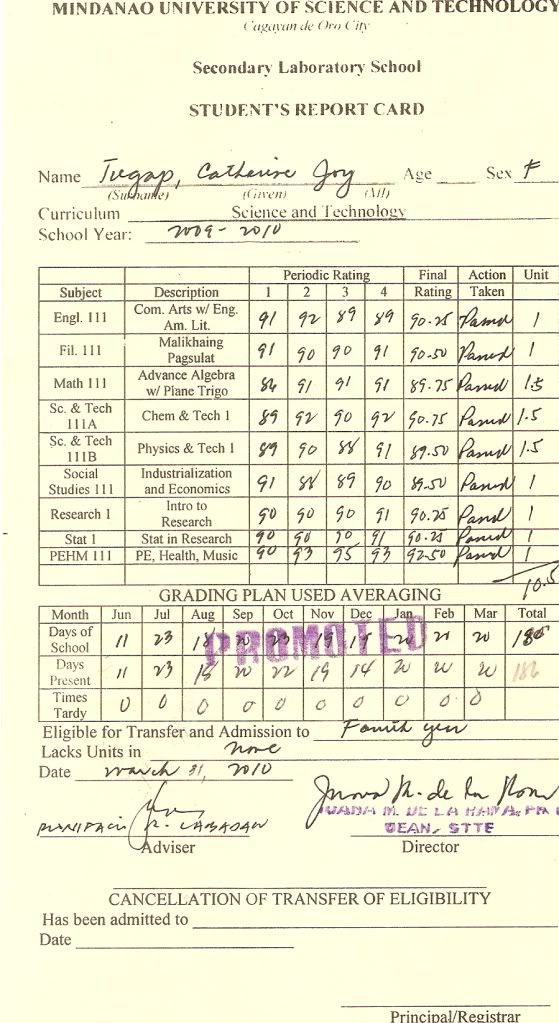 I'm so proud of my grades! Samok ang enlish oi, nigamay, dili nako type ang teacher. GRR >.<
After I was walking out to school, naai usa ka babae nikalit og duol sa ako and nag.ask asa ang rum makuha ang card, and I immediately thought na mother siguro siya sa isa ka hs student. But when she chatted with me, na.shock ko because kaila lageh siya sa ako? ingun.ana na diay ko kasikat? nyahaha. She watched my card and she mentioned the name of jan2x and AHA, mama diay siya ni jan2x wahaha.
Then I went to Ketkai kai la lang, mag suroy2x XP Nag ride ko og jeepney padulong dadto. Ana dyud na kai init gud! magadto unta ko sa robinsons pero close paman ang stores oi! so I finally decided na mag.jollibee nalang ko. so nag line up nako, tingala ko nai.nagkuhit sa ako and na shock ko na si joe man diay toh! JOE MXTA NMAN? nagbreakfast lageh daw siya kai la pa daw siya ka bf, ako nag.order ud og pancakes kai gusto ko magtry plus barato ra siya doh! tag 42 ra and yummiee lami dyud siya. Basta we chatted and ambot unsa to among gi.storyahan, nakalimot nako! then nagpauban daun ko niya magpalit og magz pero ntawn addik kayo sa comp.games gi.biyaan man kaha ko! hai nako~
So after that, naka buy na dyud ko sa 3 ka mag! and usa kai ang latest, oh men, mahal na kaayo ang magz doh, niabot na og P95! grr, ang uban mga old but new. i bought them for only P60 n P50 only! So I rode another jeepney and nag drop dapit sa MSE. And oh my, natingala ko kay naai usa ka dude, paglingi nako ni talikod man kaha kalit but i didn't really noticed who he was. murag naa sila gi buy sa usa ka tindahan and infront ra ko nila naghulat magsakay og jeep. ntawn, pag.gawas nila, ako man diay tong prom partner and uban pa ka kabarkads iyang kauban. GRRRR samokan ko magtan.aw sa dagwai oi and kinda ulaw kai murag i dunno, basta weird na feeling ~.~ So yeah, nakasakai na dyud ko og jip at last, and I was reading my mag and never noticed the time. Pagkahuman nako sa usa ka mag. murag totalgirl man toh ata, naka.abot nako sa bugo! wow~ timinga oi! My mom texted mi if maguban ba ko nila og lakaw ni dad and wala lang, naka.abot naman gud ko sa balay and i just texted her, pasalubong nalang.
That's all!~!