Sweet Escape



Sweet escape
because I finally got to get away with
my horrible experience at school.
So it was like 9:30/10:00 in the morning where we went to
Ann Carmel's
house and bond there.
We call it morning-out kay naa ba diay nighout sa morning? hehe. Well here's the story.
After we went out to school we bought first our 'sud-an' @
"Prito Paborito"
it cost me P20. Hai buhay, good thing I brought an extra money today otherwise I can't buy anything. Then we
(Ann Carmel, Cychris, Shiela and I)
ride the jeepney (i forgot the term >.<) RBC and got off in Cogon Market. Then we ride again another jeepney to Ann Carmel's house in Canitoan, Scions Subdivison. (correct na ann?) I never noticed the surroundings because Cychris and I were busy talking about life and Cy's lovelife XP Wow, after we got off, na shock ko coz' there's a bahay-kubo and I said to Ann: "Ann mao na inyong balay?" Well of course I know dili to ilang balay oi kadato ra nila, And she said: "Dili oi." Padulong nami sa ilang house and my gass layoa pa lakwon oi!! and init pa kayo ato, good thing i brought my umbrella, ella, ella, eh eh eh. And at last the wait is over, niabot na dyud mi sa ilang house. And cute sya tan.awon sa gawas becoz' naa man to sila'y tuya2x or like a swing bitaw and whitish kayo sya becoz ilang car white, the paint is whit and so on. Pagsulod bitaw nimu, dili halata sa gawas nga grabeh diay ka dako sa sulod becoz sa gawas kinda huot tan.awon pero maka.adto ka sa ilang backyard, my gass, dako dyud!!!! Naai farm sa likod and nindot kayo dito becoz it's really relaxing ang view and kusog kaayo ang signal sa SUN!! wahaha. Anyway, naa pa to iyang ate pagabot namu pero nilakaw daun. We were busy playing the organ and the guitar. and kami ni Shiela walai lingaw so nag pic2x nalng mi. After that nag eat mi! weet-wew kai gi-gutom dyud ko as in. wahaha, sayang alang picture. habang nag kaon naai background music from my cell and shakoy gusto nila ipa.play ang "
can I have this dance"
nga song and I said dili pero they really insist and said it's 3 agaist 1 kai ganahan lageh daw sila sa amung rigodon gi-present and makaibog lageh daw. So fine, napugos nalang ko.
Then nagwatch2x mi og tv ang uban nagplay2x sa piano since wala mai kabuhaton nang joke2x mi and lingaw kaayo kai nagbinuang mi sa mga wig, ug unsa pa dira as what you can see at the video:. After that we watch a movie and I suggested na
"Kung Fu Panda"
since wala pa dyud ko kakita.
After atong napaka-chada na movie nihilom og kalit and we went upstairs. didto, naa mai murag terrace sila ann sa likod and makita nimu ang napaka-wow na surroundings, ang ilang dako ni backyard and ang farm and naa pa dyud to helicopter>> na hinumduman dayun namo si aton kai ingun ni sheila katong nag-ingun si karol nga "helicopter!" si aton daw murag nahadlok effect so yun. Nagsabi man ko nga mgheadbands mi tanan kai mag
picto-pictorial daw kunuhay and lingaw dyud sya.
daghan pa kayo tong nangahitabo~ nag karaoke daun mi and my gass katong gi.pamili ni cychris mga churva kaayo kai karon pami ka realize sa mga lyrics like sa "2 become 1" n "Cruisin'" O.o churva man diay kayo toh! wahahahhahahaa. after ato nakakita ko sa dvd ni ann nga "this is it" ni Mj and I said, tan.aw ta ani beh! and murag 30 min nalang toh kai 4:00pm na man mi manguli. Gipang.fastforward ni ann and basta naa pami gipangstoryahan, mga serket nalang toh. pagka 4 gane ni.ingun daun ko og
"4 na"
so nag ready na daun mi palakaw. niadto mi sa tuya2x nila ann and didto daghan pa gipang.storya and until nag pic2x daun.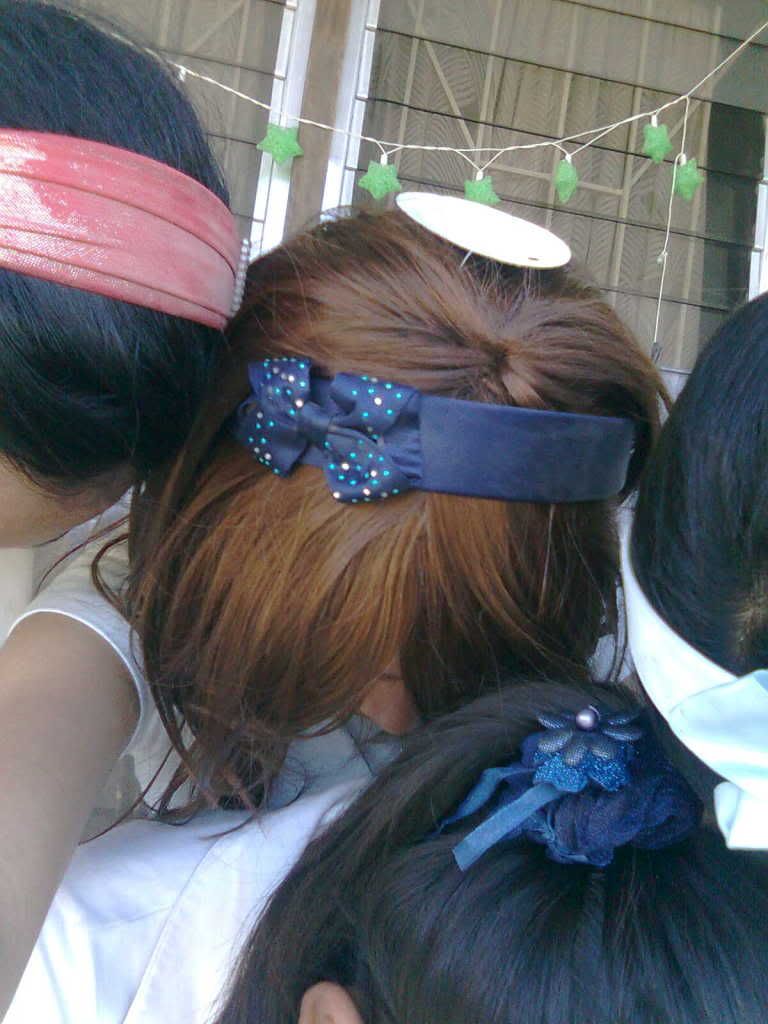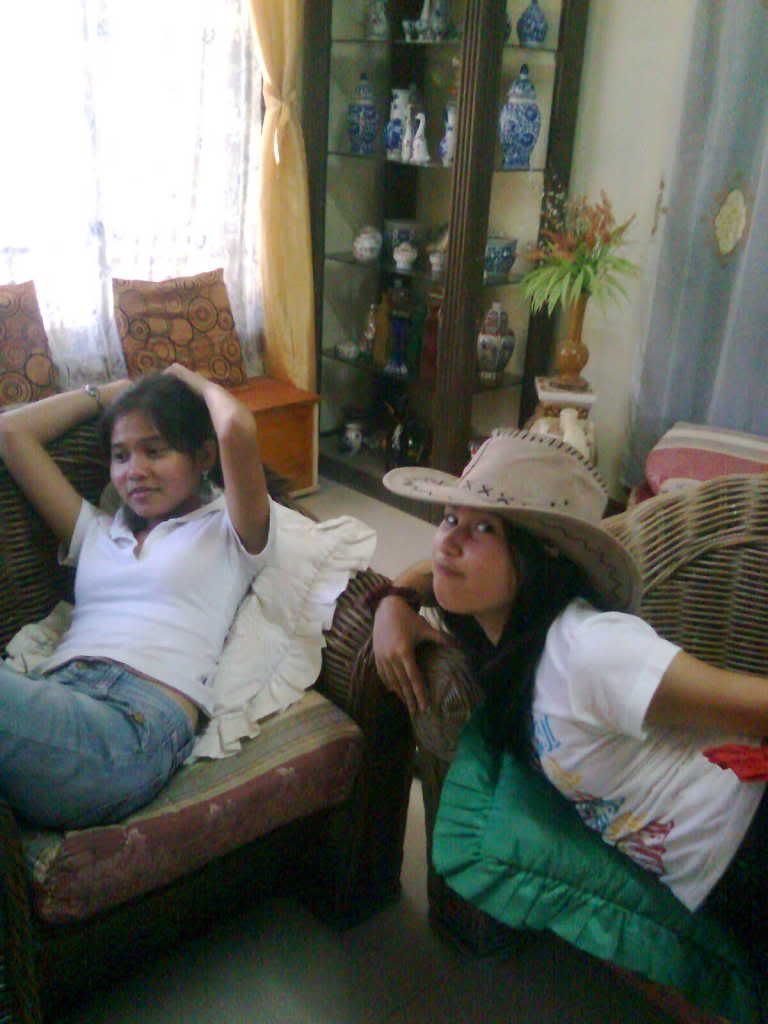 And omg! first daun nako maglakaw2x ako ra isa para musakai og bugo, kai taga bugo man ko. sila shiela og cy didto man sa cogon. so gi.panginstructionan nako ni ann unsaon and ako ra nag lakaw2x dapit sa xavier and naka.realize daun ko nga chada man diay ang feeling! wahhaha.
So overall it was a really really great experience as in grabeh dyud kayo ko ka happy kung kabalo lang mu basta I really enjoyed it and sana maulit muli. ann? are u reading? wahihi. Sa ka happy nako nakatulog gud ko pag abot sa balai. Kai 6-11pm man ang brownout, nakatulog gud kog 6pm and nakamata ug 9am. hai, labada gane sa akong ulo karon nah.~ o sige sige, till' here kai magbrownout napud sa 1pm.